The Railway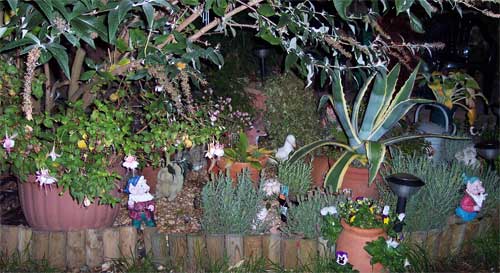 Fox Hollow;
For many years I have wanted to construct a ground level passenger carrying railway, unfortunately the garden of our current home is too small for any kind of loop. It would be possible to construct a simple up and down line of 5" gauge and about 20m in length along the line of the garden path, although this would need to be portable to allow continued access by the rest of the family! It is hoped that on completion of a passenger car, construction will commence. The name of the line is inspired by the rockery feature at the bottom of the garden (pictured above in the moonlight) but may be subject to change in the future! Can anyone spot the fox in the picture above? Here he is below in daylight.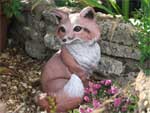 ---
The Motive Power
For a five inch gauge line we currently have three locomotives, two steam and one electric;
HAGAN, an 040 freelance diesel outline battery electric locomotive. This was constructed on the outline of of a narrow gauge contractors locomotive. It has a 12v motor and kit built speed controller, engine sound module and electric horn with a sheet steel body.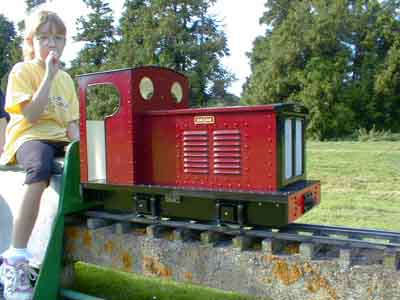 WOTAN, an 040 freelance steam loco purchased several years ago (pictured below on the local club raised track). Unfortunately for speed of construction by the builder it was not provided with valve gear so will only travel forwards (not much help on an up and down line!). It is intended to carry out a rebuild on this loco in the future, fitting proper valve gear.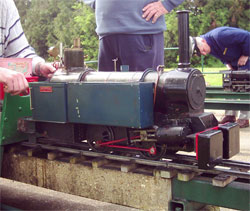 DIXIE, this is the most recent aquisition. It is an early maxitrak "Dixie" class loco which has had some improvements carried out since purchase to improve it's performance. It has been fitted with a mechanical lubricator and a steam injector and is destined to recieve a four wheeled tender when time allows.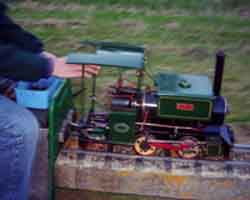 ---
The Rolling Stock
Under construction (for some years!) was a single passenger / driving car of sit astride design. This was completed in May 2006. Until that was done there was little point in constructing the track! As the track plan evolved to a slightly more ambitious arrangement incorporating a point and a siding the requirement for at least one more carriage has arisen to be addressed in due course!.
---