The First Steam Service
A couple of days after the first train ran on the Fox hollow Lght Railway it was decided it was time for steam! Dixie was prepared and once steam was raised the train set off from the house for St James Crossing - now for the upgrade in reverse! Initially things were OK but as the afternoon wore on and passangers were carried (2 adults plus the Chief Engineer driving) severe wheel slip was experienced acompanied by the characteristic knocking from the connecting rods which seemed somehow worse at ground level. It was then noted that the chimney was dry of oil and the lid of the mechanical lubricator was laying at the trackside just passed Fox Hollow. Further investigation revealed a large amount of oil on the track and precious little left in the lubricator. The lubricator was refilled, the lid refitted and the rails cleaned. However almost immediately the lid blew off the lubricator again and all the oil was blown out - the non return valve on the oil line had stuck open and every time the regulator was opened steam passed back out through the lubricator tank. Time for a rethink! It was also noted that the rolling resistance of the passenger car was quite high, increasing proportional to the load carried. It would seem that the low friction self aligning bearings were not as good as they were cracked up to be, this is to be investigated further but current thoughts are they will have to be replaced with self aligning ball races in custom made aluminium housings.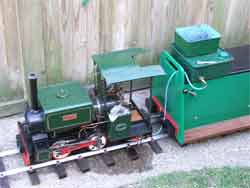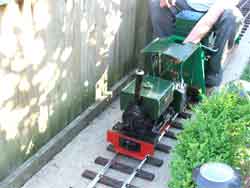 Above left; Ready to leave the house and above right; Passing through Fox Hollow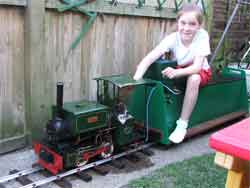 Above; Foreman driver preparing to depart from the house.